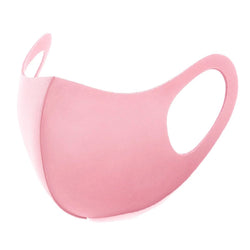 Sisterly Greek
***SOLD OUT***Pink Face Mask
SOLD OUT - Due to high demand, we are currently out of the face mask. Please continue to check back for future availability.
Our mask features sleek cut-outs for the ear and forms to the contours of your face. Mask is made of breathable cloth. Fabric is laundered prior to construction, and we encourage washing prior to wear. 
We are providing this mask free to all who need it, while supplies last. We want to assist and encourage all individuals who are essential workers, transportation and delivery staff, or individuals who require a mask for medical protection.
Reusable face mask.
Shipping for masks within 24 hours of order.
One size.
Does not include an N95 or N99 filter.
Washable. Wash hot with detergent of your choice.
*One mask per customer. Quantities entered over 1 will be changed to 1 prior to shipping. Shipping for mask will be separate from other items on an order. No purchase is required in order to receive a mask.